Feeding your family healthy, nutrient dense food can sometimes be tough on the budget, but it doesn't have to be!
As much as I would love to be able to buy all the grass-fed/grass-finished meat, organic everything, completely vegetable oil free, pasture raised that, we can't!
With our budget, it just doesn't allow it. So we do the best we can, with what we have!
When I first started on this cleaner eating train, I found out about this list called "The Clean Fifteen & Dirty Dozen". I found out that some vegetables and fruits are more susceptible to pesticide use and when possible, we should try to buy organic! Key word – TRY. Understand that if you can't buy organic because your budget just doesn't allow it, don't feel like you have to avoid these fruits and veggies! Eating non-organic fruits and vegetables are ALWAYS better than not eating organic fruits and veggies!
Eating non-organic fruits and vegetables are ALWAYS better than not eating organic fruits and veggies!
Another tip for finding fruits and vegetables in their best form is to shop your local farmers market! Eating local-to-you food is always better than eating food that is shipped across the country (or world) to get to you. A thing about local farmers is that even though they might not label their produce as organic, it doesn't mean it isn't! Getting certified as USDA Organic is expensive and can be hard for a small, local farm to do. Just get to know the people behind the stands each Saturday and ask them about their farming practices and most of the time, you'd be surprised that they do all of the same things the certified organic farms do but are able to charge a much lower price since they don't have to pay for the certification! Another way to get to the farms is to visit them! There are several in our local area that invite people to come tour the farm and check it out for themselves!
One thing I recently found out is that this list is updated yearly!
So even though you may have heard of the list before, you may want to revisit it and see if the rankings are still the same!
The EWG, or Environmental Working Group, is a non-profit, non-partisan organization dedicated to protecting human health and the environment.  EWG does tons of original research uses that information by putting it in the hands of the consumer. They also use their research to influence markets to support cleaner, greener products and work to reform the law to better protect human health. EWG has everything from Clean Eating Guides, to their EWG Skindeep app that allows you to scan your personal care products to see their rate of toxicity! EWG posts yearly updated lists for the pesticide ranking of 48 different vegetables and fruits based on their indication of pesticides.
(Updated 2017)
Clean Fifteen:
Sweet Corn*
Avocado
Pineapple
Cabbage
Onion
Sweet peas (frozen)
Papaya*
Asparagus
Mangos
Eggplant
Honeydew Melon
Kiwi
Cantaloupe
Cauliflower
Grapefruit
* some domestic farms use GMO seeds, so buy organic if you want to avoid this!
Dirty Dozen:
Strawberries
Spinach
Nectarines
Apples
Peaches
Pears
Cherries
Grapes
Celery
Tomatoes
Sweet Bell Peppers
Potatoes
A + 1: Hot peppers!
Hopefully these lists are helpful to you on your journey to healthy eating while maintaining a budget!
Here's a free guide that you can print and bring with you to the grocery store to remember what to buy organic and what not to worry about!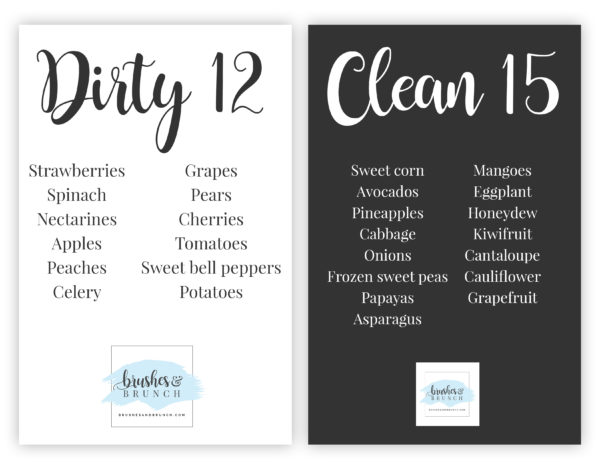 0