I totally get where you are. You want to downsize the amount of toys your kids have and just get the clutter out of the way, but how?
I was in your same shoes! And to be honest, it's still a process! Kids definitely make it challenging with keeping the clutter at bay, but it isn't impossible!
A little background…..
When our oldest, Cooper, was born, you wouldn't have believed the amount of clothes and just stuff we had. We received so many clothes and so many toys and blankets (and completely appreciated every little bit!) from our baby showers and hand-me-downs from friends. It was a huge blessing being first time parents.
But Y'ALL!!
We had so many clothes that I ended up feeling like I HAD to change him multiple times a day just so I could try to get him in every piece before he grew out of it! 😂
Kids are just like us. We tend to put them in the same things, over and over. And that doesn't stop at clothes. All parents know that kids tend to play with the same thing in their toy bin. They like to snack on the same things. It's a routine and from what we know from our kids, they THRIVE on routines!
How do I get started?
Before we can get into specific areas on minimizing with your kids, let's go over a few steps that you'll have to do in the beginning!
First: The BIG PURGE!
This step is a must.
Most of us, and our kids, just have way too much. Use this step to go through your kids room (doing this with them is best!) to go through the things that are laying around that either don't fit, have too many holes in them, or they plain just don't like or play with anymore. Donate the things that are still nice and trash the broken or too worn clothes (or use as rags!).
This step is the most important because it allows you to start the decluttering process and it also allows your children to see the importance of "more isn't always better".
I use this process with Cooper to talk about how some children don't have the toys he has, or even the clothes, and this opens up so many good conversations with him about giving and the importance of being open handed.
Second: Organize
Every items needs a place. But don't be confused by that. Just because every item needs a place it doesn't mean that every space needs to be filled! Blank space is okay and actually encouraged!
For this step, I love the use of cubbies with bins. I keep like things together. Ex. legos, puzzles, animal figures, etc. You can label or leave unlabeled, that's up to you!
Third: Regularly Declutter
Especially if minimizing is something you're starting new, it is super easy to have items sneak in and stick around even if they aren't liked or serving purpose. And it's even easier with kids.  The knick knacks from birthday parties, the school treasure box, etc., tend to come in little by little!
I try to go through the kids rooms monthly to every couple of months just to do a quick little declutter and clear out the things that snuck in!
Tips on different ways to minimize with kids
Schedules
Don't slam them full of activities!
This is easier with little littles, but as they grow up to ages like our big guy (turned 5 last month!) you start to see their friends getting into activities like city soccer, t-ball, etc.
Not saying anything is wrong with that, because there absolutely isn't. But I'm totally guilty of feeling like "Oh, well, I guess Cooper should be doing that too!" without considering how he would do with that added task.
As much as I want him to be involved with extracurricular activities, we have asked him several times if any sport or karate or gymnastics is something he's interested in and he just isn't! And that's perfectly okay with us!
I think it's easy to get caught up with what everybody else's children are doing and it's okay to just go with what your child is comfortable with!
Instead, we just stick to a basic routine, which our kids thrive on! A simple morning routine, after school routine and bedtime routine!
We will eventually add things to our day-to-day activities, but it is perfectly fine to leave some white space in there too!
Clothing & Shoes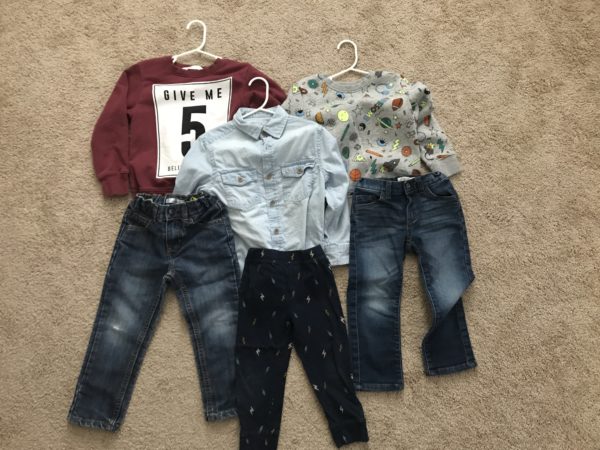 We learned this quickly after our newborn clothing fiasco with Cooper, that he wore the same outfits over and over. This naturally started to create a (the now on trend word) "capsule wardrobe". This is the primary way we control how many clothes our kids have and it has made a world of difference.
Since the kids are both in preschool, we do keep some play clothes on hand, but we mostly keep a specific amount of clothing pieces in each category.
Pants/shorts – 1 per school day (plus an extra to keep in their school bag for accidents)
Shirts – 1 per day. A mix of short sleeve and long sleeve. #Floridaweather (plus an extra to keep in their school bag for accidents)
Shoes – This is one area I am still trying to improve, because I mean, how cute are little girls shoes. Right?! We try to stick to 1 tennis shoes, 1 school shoe and 1 dress shoe.
Outerwear – 1 rain jacket, 1 lightweight hoodie and 1 winter jacket.
With capsule wardrobes, we tend to focus more on quality of clothes so that they can last the season. Because budget is more than likely a factor for most, my tip is to use your local consignment store! I consign our clothes when we are done with them but we also use them to find high quality pieces to fill in with the cute & trendy pieces from places like H&M, Target and Kohl's. Even though the pieces are cute and we love them, sometimes they don't last as long as other brands like Gymboree, Gap & Old Navy that tend to be pricier!
Toys, Books. & Knick Knacks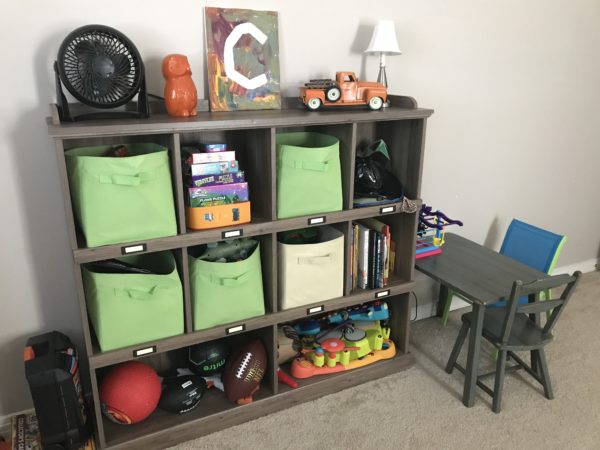 This has been a labor of love category with us. Our son is our collector. He LOVES to collect every item of something that he is into at that time and that can become A LOT!
We recently purchased this cubby and it has been awesome!
With his birthday being 12 days before Christmas, we are still working on minimizing this ourselves, but we decided that all his toys need to be contained in this singe piece of furniture. The exception to this is his large track for hot wheels and books. There is a bookcase built inside of his closet and we love changing out the books that are in this cubby!
I hope this helps and stay tuned for Part 2 next week!
SaveSave
1