Whoop Whoop!!
This year is the first time we are participating in the CrossFit Open!
We both go to the gym 5 days a week (most weeks!), but the Open brings so much more motivation and push. We both know that we realistically won't make it to Regionals, much less the Games, but having to put that score in every week and having the ability to improve on it each year, really does push you to work hard when you really just want to stop and lay down on the ground. ?
Each week of the Open, we are going to go over what the workout is, what we thought about it when we saw it announced, etc.
We are excited for this season!!
Week 1 – Workout 17.1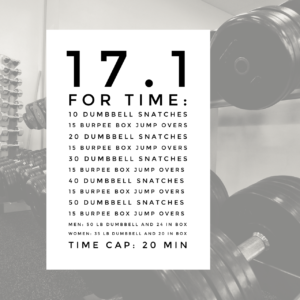 Thoughts when it was announced?
Jared – I was fine until I realized it was "for time". It was then that I knew that death had come in the form of a WOD.
Laiken – I'm never going to finish this. Ever. I was completely intimidated by this WOD. Burpees suck, but then you add in jump and overs? UGH.
Strategy going into the workout?
Jared – Like most, I watched the "tips for 17.1" videos and had an hour long talk with Grant as we stretched before the workout. My only strategy was to try and keep moving at a consistent pace. I had no plans to try and switch mid-air since I don't have much practice doing that. I figured it was too late to try and get comfortable switching with a 50lb dumbbell. JUST KEEP SWIMMING MOVING
Laiken – Initially my thought was, just don't die. LOL After watching some tips/strategy videos, the only thing I could think of is just don't stop. If I stop, I won't keep going. This workout is obvious that you just have to work on pacing yourself. If you go too hard out of the gate, you're done.
Did you stick to your original strategy?
Jared – I'd like to think that I stuck to my strategy of continuos movement but that was not the case. I didn't finish the WOD within the time cap and it was due to taking too many breaks and going extremely slow on the burpee-box-jump-overs during the 40s and 50s.
Laiken – Somewhat. I definitely pushed myself to not completely stop. I did have to take 2 "breaks" to get a sip of water so that my breakfast would stay down! ? This for sure added some seconds to my time. The burpees were the worst, so I slowed down A LOT with those. Like literally falling down and trying to peel myself back off the floor.
Did you do the workout more than once?
Jared – Yes! The first time I did the workout I got to 36 of 50 snatches. I knew that I could better and potentially finish the workout. I waited until Monday and re-did the WOD. I still didn't finish but did improve.
Laiken – Nope! I knew going into the Open this year that I would have to do the workouts scaled. And I'm fine with that since my body is still getting back to its new normal after childbirth. The scaled weight was still challenging, especially in the higher rep rounds. I did do step ups instead of jumps, too, but come on, those burpees will never not be challenging no matter if you're stepping up or jumping. They suck all around. I finished within the time cap at 19:48. If I wouldn't have finished, I would have probably tried another time, but I'm happy with finishing!
Were you happy with your time/performance?
Jared – Yes and no. I'm happy because I did improve. I got through all 50 snatches and 4 BBJOs. Also, my tie-breaker time improved by almost 2 minutes. On the flip side, I'm not happy because I didn't finish. Doing it twice and still not finishing, sucks. I was 11 reps away from finishing! But that gives me something to work on over these next few months and then try it again.
Laiken – Yes. I'm happy that I finished. I initially thought going into it that I would probably make it through the 3rd round and that would be it, so I surprised myself by getting to the end.
Learn anything?
Jared – Yes, I learned that my form goes to shit on the snatches during the 40s and 50s and that I need to do more conditioning. I get gassed on box jumps pretty quickly so it was no surprise that I was struggling to get off of the ground and jump again.
Laiken – Yep. That I can go further than my mind tells me. Also need to work on more endurance work!
What are your hopes for 17.2?
Jared – I hope 17.2 is not another 20 minute workout. LOL
Laiken – That it's not freaking 20 minutes long!! Either way, I know it'll be another mentally and physically challenging workout and I'll be anxious to see how hard I can push myself.
1